Returning to the gate, I could skip the boarding queues and just hand back my transit card before returning to my familiar seat and crew. Unlike last year, no tongue-in-cheek humor and cheery "welcome backs" greeted me. I comforted myself with a glass of pre-departure bubbly. It worked.

The cabin had been cleaned and sterilized again, as indicated by the little stickers placed on my headset. Also, the foil-wrapped inflight magazine which I had opened on the previous sector had been replaced with a pristine copy. I am truly amazed by how throughoutly Cathay cleans its planes during these short stops.
While we were still on the ground and a flying time of 75 minutes was announced, the familiar wine list and this menu were distributed: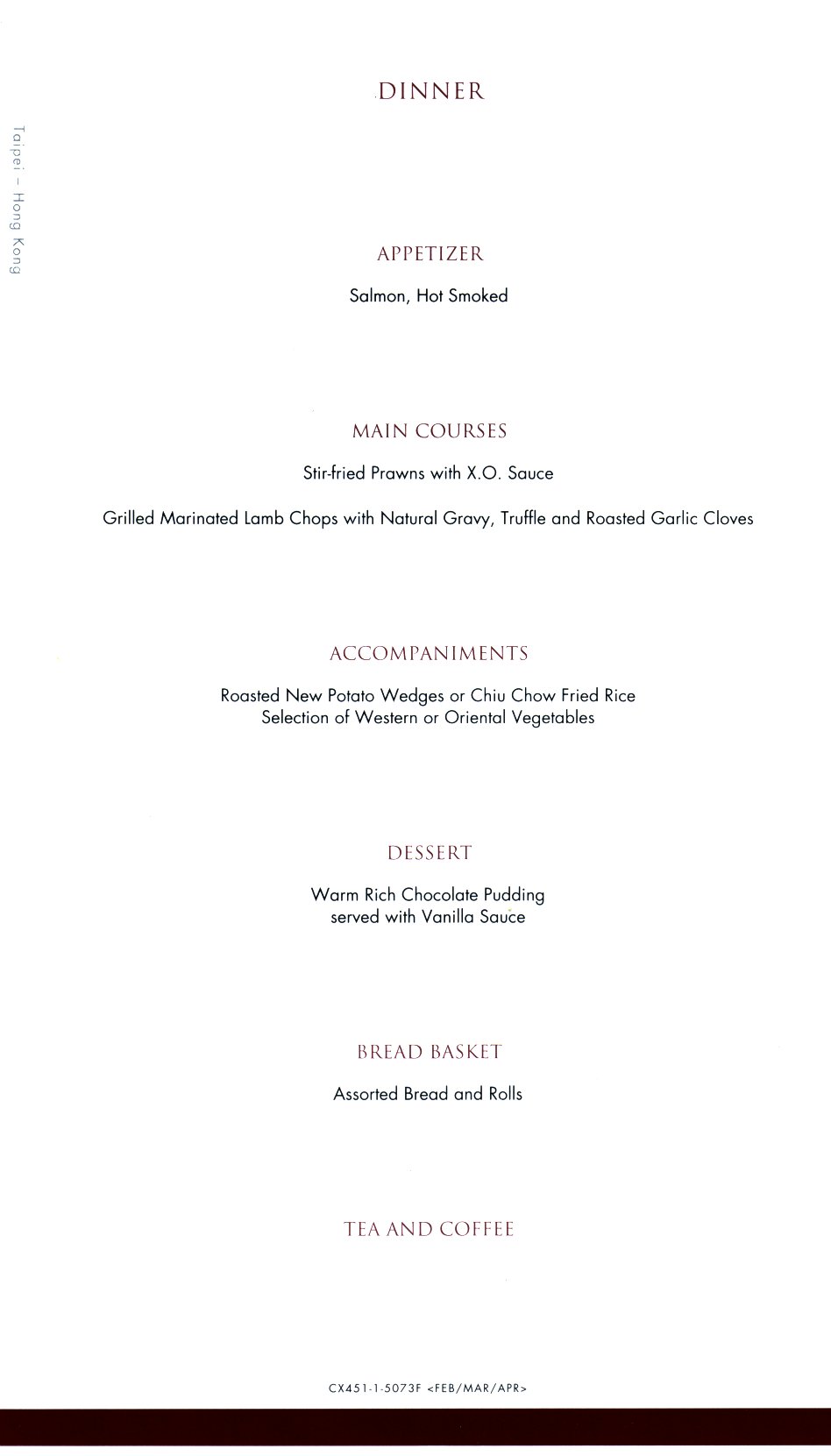 Menu
When orders were taken, I asked for the prawns in X.O. sauce with some rice and veggies, despite not being hungry at all. But, and this will probably sound childish, I just did not want to forego the occasion to indulge in another truly "First Class" meal. As I was feeling a bit cold, I also asked for a blanket, but just as on the NRT-TPE leg, it never appeared. This time, I was really close to telling them, but in the end let it be. In hindsight, I can't explain why I didn't simply remind the F/A…? Will do next time alright. And while we're at it: Friendly remarks such as "Enjoy your meal" etc. were just as elusive on this flight as said blanket. The crew was in fact pretty reserved overall. Maybe they just got tired, not having had a crew change in TPE. (Yes, I am being pettish here. For Business Class, let alone steerage, the attitude would be perfectly adequate, but for one of the leading First Classes… but this crew was an exception, my other CX flights so far were brilliant).
On a positive note: We took off on time, and with only a bit over an hour to go, the Flight Attendants sprung into action immediately after the captain switched off the seatbelt sign, setting my table with a full set of cutlery, salt and pepper shakers, butter, bread from the basket and so on. Looking forward to a meal heavy on seafood, I decided to have some more of the award-winning White Burgundy, which was served at an enjoyable temperature. It went well with the salmon appetizer and wonderfully complemented the stir-fried prawns. This dish was excellent, simple yet wonderful in taste and very nicely presented. As a layman, I'd somehow expected the entrée to be presented in a Chinese bowl and with chopsticks, but the food was plated the western way. Just as well.
I really felt full after the prawns, but by now you must know me well enough to figure that, when asked by a cute F/A if I'd like to sample their tasty chocolate pudding, I cannot possibly say no.

And so it was that minutes after my entrée plate was cleared away, a delicious concoction of chocolate, vanilla and cream appeared on my table. It was served lukewarm and had more of a cake-ish consistence than the one of a pudding. Not that it mattered, the dish was pure bliss and indulgence, and slowly eating it in the luxurious surroundings in the nose of a Cathay Pacific 747 flying into the sunset was absolutely mind-numbing. When I was done, coffee and liquor were offered, but considering the time of day, I opted for a cup of tea instead. CX offers an exclusive tea assortment to its First Class guests, and my chosen Fuding Jasmine Needle was very nice, despite being served in a coffee cup. (On previous flights, special tea bowls were used.) I don't like watching something on the IFE while I am eating as it would unduly distract me from the meal, but while sipping on my tea I peeked into another British TV series I'd heard about, the Ali G show. It was quite wild, but funny! When we started our approach into HKG via the New Territories, I got a good view of Hong Kong at night from my four windows, regretting that I wouldn't be able to stay in town longer than a couple of hours. Yeah, more Cathay flying lied ahead…
Landing was on time, and we docked at one of the gates close to immigration. I was one of the first passengers through, and my properly tagged case was the very first one to appear on the conveyor belt after a short wait. Very efficient. I zipped into town with the Airport Express and crashed for a while at a cheap pricelined hotel. The airport hotel is outrageously expensive and thus not an option, but I actually considered mimicking Seat2A and sleeping on a bench at HKIA before freshening up at the Wing early in the morning. I'll probably do that next time.
---