A boarding call was eventually made in the lounge, so I went downstairs and found two long lines in front of the gate, one for Y and one for C and F Class passengers. People were processed quickly though and I soon walked down the forward jetway. Doing so, it occurred to me that some days earlier, I flew into Japan on the world's largest passenger jet. Now, on my return, I was to be on the second largest plane, although both flights were on the 747: The A380's maiden flight was on the cover of the newspaper that I was offered after settling into 2A, along with some nibbles and a fresh Cathay Delight. The cabin turned out to be fully occupied, and my fellow pax included not only "Chris de Burgh" and entourage, but also some African businessmen or dignitaries who seemed to be very well accustomed to First Class travel. Pushback was slightly delayed, and hearing the captain announce that we'd have to queue up for another 15 minutes or so, I gladly accepted a refill on my Cathay Delight to sip on during the wait. Flight time was announced as roughly three hours, which gave me plenty of time to dine above the clouds. Once it was our turn to lift off, I was treated to a beautiful view of the Japan coastline, enjoyable from my own four windows. As we continued our climb, I noticed the pax on the other side all staring out at something. Curious as I am, I got up had a look myself: Mt. Fuji was right below us, majestically peeking out from a blanket of clouds. I quickly grabbed my camera and took some pics of the same mountain that I had photographed out of the Shinkansen the previous day.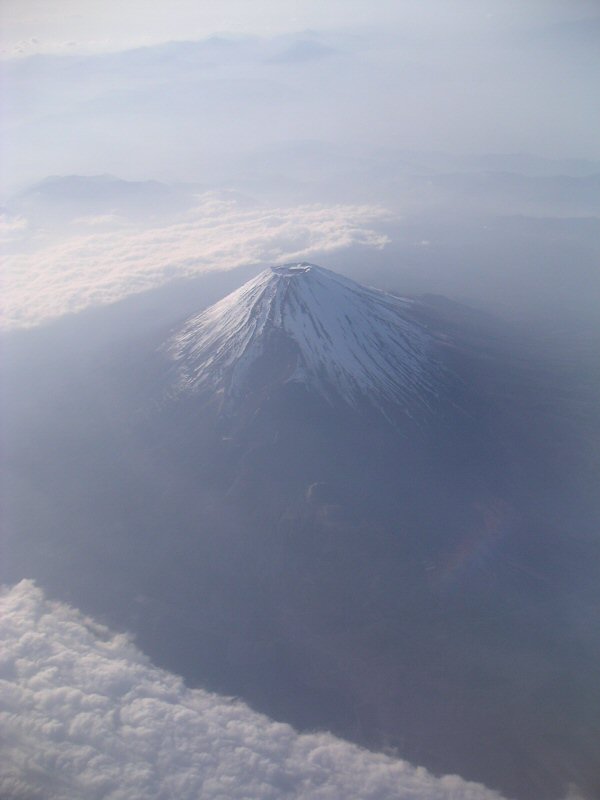 Mount Fuji
The flight attendants on this flight (they remained on board all the way to HKG) struck me as being perfectly fine, but not as charming and "actively friendly" as their colleagues on my previous CX flights. Minor flaws, such as the ISM never showing up and a blanket that I had asked for but never got, came as a surprise to me, having so far been used to nearly perfect service. I reckon though that I could just have insisted a bit more. But as it wasn't a matter of life or death, I didn't.
Soon after takeoff, the same wine list as on the outbound and the menu for the sector to TPE were presented: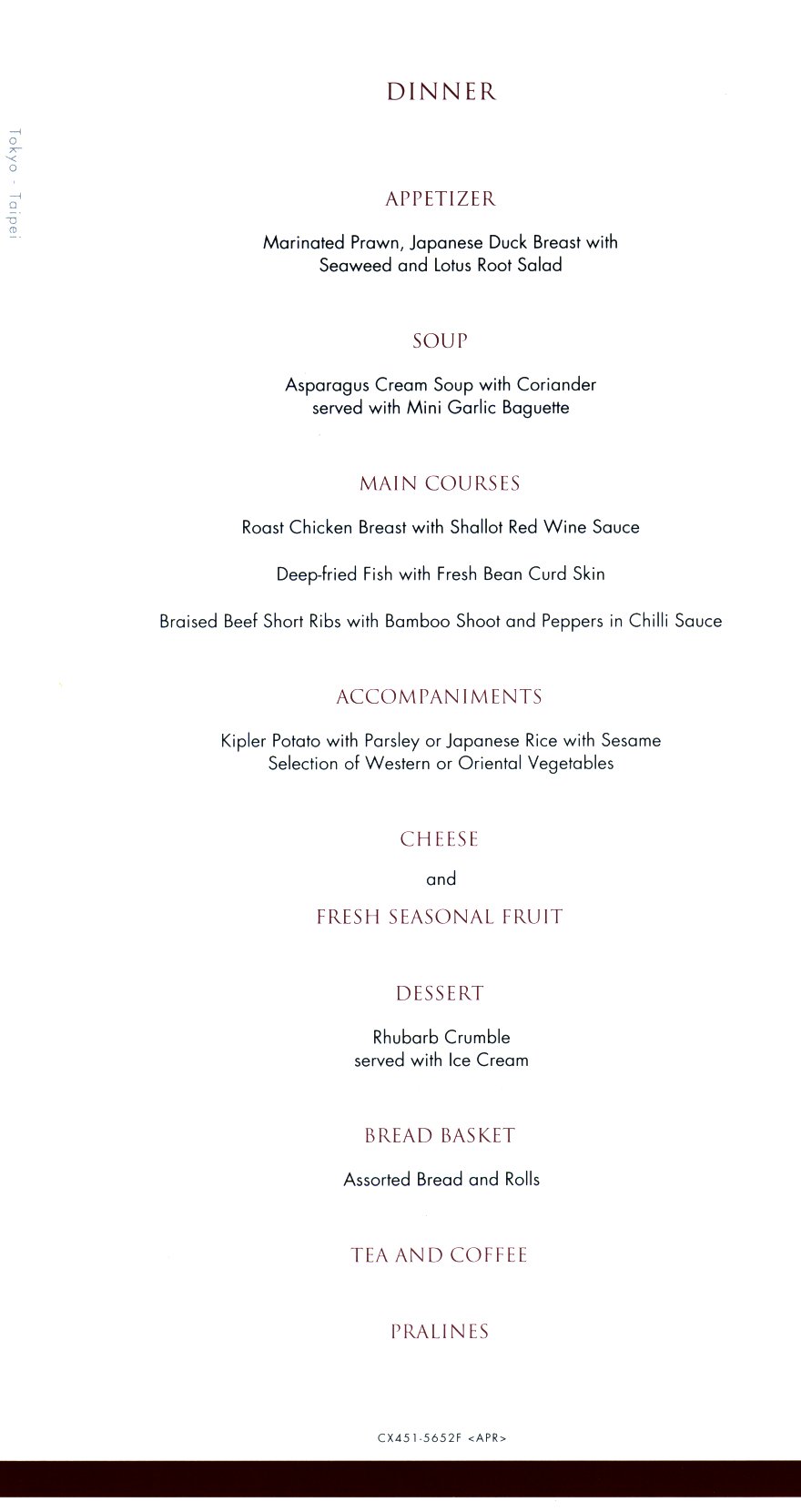 Menu
I ordered all courses with the Chicken breast as my entrée. (Unlike what I had the privilege of growing accustomed to on previous flights, I had to ask for each course instead of being offered it and just "accepting" it. Contrary to the blanket though, I had no trouble to voice my food requests!

) I also asked the FA if they could make sure that a bottle of the Château Brancaire-Ducru would be opened so that it could warm up and breathe a while before I'd drink it with my main course. My request was quickly honored and the FA actually put the bottle on the little buffet in front of row 2 so that I could "watch it breathe". Nice touch! My table was laid as we reached cruising altitude, and I got a chance to choose a roll from the variety of breads in the basket that went around. I have no particular memory of the appetizer, but I think that I had a glass of white Meursault with it. Next arrived the asparagus soup, which like most "airborne soups" was nothing to write home about. I was looking forward to the garlic bread though, which unfortunately was missing in action. When I had almost finished my soup, an apologetic flight attendant appeared and offered me some, having previously forgotten about it. The chicken breast entrée was tasty and the serving very generous. Being a slow eater as usual, I had given the Bordeaux plenty of time to warm up and was thus rewarded with a flavorful and noble wine, which nicely accompanied the surprisingly tender meat.
It goes without saying that I took part in the cheese course, but this time I was smart enough to ask for a "scaled down" version focusing on the dairy stuff and some dried fruit, but foregoing the crudities etc. that came with the cheese the last time. Having liked it and seeing the bottle still half full (all the psychologists will take this viewpoint as an indication of my personality…), I accepted the steady Bordeaux refills until after the cheese course. My tummy clearly signaled the need for a break, so I took a walk down Business class and back (yeah, what an impressive hike, I know!

), freshened up and watched my first ever episode of "Little Britain" on Studio CX. GK and SP! were right, the show is hilarious indeed! After a good chuckle, I was ready for desert, which was lovely and not too sweet. I then rounded off the feast with an espresso (Side note: I really start to like the comic-style china that CX uses for their coffee service. It is a colorful way to end a meal.) and also asked for the chocolate box, which appeared after a few moments. It was still intact, and I helped myself to a number of pralines appropriate for a Swiss chocoholic in overseas exile…

While they slowly melted away in my mouth, I listened to some jazz on Studio CX and our 747 descended into Taipei. Thankfully, the crew let me keep the hard-wired headphones on until shortly before touchdown, which was slightly behind schedule.
---