Welcome...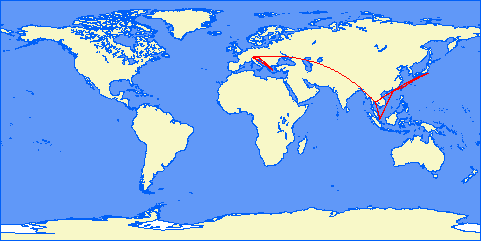 my route
...to this trip report, covering a total of 22'689 miles that I have flown in summer 2004 and named
airoli & friends do truly Asia.
I admit it: I am an egoist. I wrote this trip report primarily for myself, as a souvenir of a fabulous vacation I was able to take and en lieu of a conventional scrapbook. This is why the report is very long, detailed and at times quite personal.
You are invited to read as much as you like, but please feel free to skip any part you're not interested in. You can either read the report page by page using the links at the bottom of every page, or hop to any section you find appealing using the menu on the left. Most pictures can be clicked on to obtain a larger version in a seperate window. Also, the opinions expressed in this report are exclusively my personal ones. As we Flyertalkers say: Your mileage may vary.
And now, sit back, relax and get ready for a tale from the lap of luxury. Viel Vergnügen!
---