Getting to the Express train linking the airport to the city was quite a trek with my bag for I had to take several escalators down to the appropriate level. There was only one elevator with long lines in front, so that didn't seem to be a wise option. A train was waiting and I hurried aboard, only to see on the displays that it wouldn't leave for another 7 minutes. Oh well. I started reading and continued to do so while we where whisked through the night into the heart of Malaysian culture and commerce. Knowing of my late night arrival and not being familiar with the city, I chose to stay right at KL Sentral, the main train station with two adjacent, recently opened hotels, the Hilton and the Le Meridien. A special promotion (stay twice, earn a free night) run by the Le Meridien Moments program enticed me to stay in their KL property the first night, before moving over to the Hilton for two more nights. Getting from the KLIA Express station to the hotel was a bit confusing due to the unclear signage, but with the help of the friendly lady manning the information booth at KL Sentral, I found my way. Once you know where to take the escalator up, it is really easy and not far. The two hotels share a small entrance on the street level that lacks the grandeur of their main entrances two floors up, but makes for a convenient way to get to and from the train station. And as you can see on this picture, my initial worries about the hassle of changing hotels were unfounded: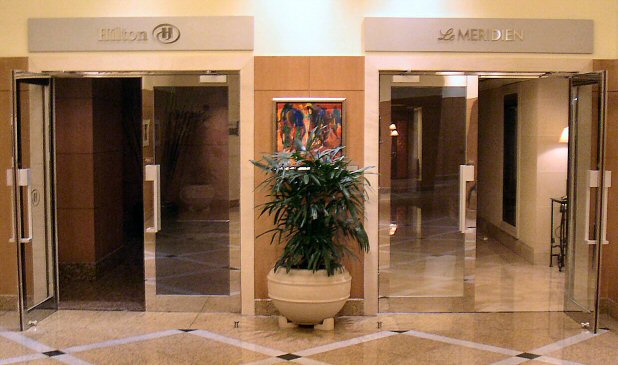 I walked through the door on the right for the first night and was quickly checked into a corner room according to my preferences. It was on the 17th floor and had a nice view from the panoramic windows in both bed- and bathroom. Stylewise, the room offered a nice blend of classical luxury (marble bathroom, silver faucets) and modern design (glass-walled shower, wooden floor). Le Meridien beds are my favorites, and this one was no exception. Truly heavenly! No surprise then that after a warm shower, I fell asleep quickly and slept in the next morning. Once awake, it was time to conquer what was advertised the "longest swimming pool in Malaysia", which the two hotels share. It was nice and not busy on that late morning. Something was odd though: There was a concrete partition smack in the middle of the pool, separating it into two parts. It appeared to have been added after the pool was built, and it made no sense to me at all as there were walkways and people "on land" could move freely between the Hilton and Le Meridien section. For me, all it meant was getting out of the pool, walking two steps, getting in again on the other side and continuing my lap. Pointless and so annoying that after a short while, I got tired of it and just stayed on one side. That much for the "longest pool".

My rate did not include breakfast, and knowing about the HHonors Gold benefits next door, I did not buy into the offered breakfast buffet but instead just checked out, walked out of the one and into the other door, finding myself in the futuristic and stylish Hilton lobby. It set the stylistic theme that the entire hotel was adhering too, and I think it could best be described as "playful modern". Colored glass chandeliers, modern art, smooth wooden floors and smartly dressed bellhops and clerks made me feel like on the set of Ocean's Eleven or so. My positive first impression was confirmed when upon presenting my passport and Hhonors Gold card, the front desk immediately asked me if I'd like to proceed to the top-floor lounge to complete check-in there while enjoying a drink. I had no objections of course and while my suitcase was taken care of, I was escorted to the elevator and into the dashing, two-story lounge with panoramic windows, where the last remains of the breakfast buffet had just been cleared away. The waiters still offered me some fruit and a glass of refreshing mango juice, which I enjoyed while being checked in. My escort from the front desk said that the hotel would like to upgrade me to an executive room with a view of the Lake Gardens, but that it would take another half hour for it to be ready. I was given the choice of taking a regular room instead, but decided to wait in the lounge and explore it a bit in the meantime. There are two sections, a large non-smoking area with the buffet and a little bar as well as a rack with newspapers and a TV, and a smaller smoking section across the hallway with a view towards the KL monorail. The upper floor offered conference and meeting facilities, and there also were two PCs with free internet. I don't know if the lounge had WLAN because I never bothered to bring my laptop – it was firmly plugged in to the free highspeed LAN that came with my room upgrade. In the mornings and early evenings, there were lavish spreads of breakfast (or hors d'oeuvre, respectively) items which not only stood out for their tastiness, but even more so for their beautiful presentation. Again, the "playful modern" philosophy shone through in the modern china used combined with say, a little spot of color (e.g. a dash of strawberry sauce). During the day, a selection of drinks, fruit and nibbles was on offer. Yours truly ate plenty of yummy stuff in that lounge for sure… !
When my room was ready, I was escorted two floors down and into a lovely "open space" – one big room that included bathroom, bedroom, study and foyer. These sections could all be left interconnected or partitioned off with stained glass doors. In the middle of it all was a closet accessible from two sides. By the window, there was a couch that I frequently used to read the paper in while occasionally glancing out at the KL Skyline (the Petronas Towers were visible if I stretched a bit) or the Lake Gardens below. As I was in the room by myself, I always left the partitions open and thus enjoyed the feeling of space and the view at all times – even when taking a shower! Speaking of which, it had a lovely rainfall head and excellent water pressure. The "playful modern" theme did not only reflect in the furniture used and the huge plasma TV, but also in a unique new concept, called vanity boxes or something. These are essentially small black leather cases labeled "Business Box", "Entertainment Box", "Relax Box" and so on and containing items needed for the respective activity, such as stapler and writing kit, card games and skipping rope, or massage oil and yoga booklet… Although I have not used any of the things, I adore the idea – this is what truly makes a hotel stand out. I think that there were about 6 boxes available in total, with regular rooms getting one at a time and executive accommodation three or more. There was a note saying that other boxes could be requested free of charge. And here's one more example of the "playful" aspect: The daily turndown service included the lighting of fragrance lamp, which meant that upon return to the room after dinner, I found myself in a dark environment lit by a small candle and scented in an exotic odor. I let the candle burn, watching her reflections in the window and the mirrors before falling asleep…
Considering that I paid something like €55 per night, the room, service, lounge access, free laundry and free internet that I got certainly were a heck of a deal. I expect prices to go up as soon as the word has spread a bit. Here are two lousy room pictures I took:

| | |
| --- | --- |
| | |
Although I must admit that I enjoyed the Hilton so much that I spent more time in it than I had originally thought, I still firmly intended to go and discover the city. My first stop was to be the Menara KL, a tall TV tower pretty much in the middle of town. I expected to get a good overview of the city from there and was not disappointed, although I must admit that getting there was more strenuous than I had anticipated. First of all, the heat, humidity and polluted air were absolutely merciless. Every time I left an air-conditioned environment, it felt like hitting a "wall of hot air". I was used to the climate in Singapore and Bangkok, but for some reasons this felt a lot worse still. If I remember correctly, temperatures were close to 40°C. This way, even the five minute walk to the monorail station was a nightmare. It got even worse when the monorail had just left and I had to wait on the open-air platform for another couple of minutes. The fact that even the locals were sweating like crazy was a, well, cold comfort.

Thanks to the wonders of privatization, the monorail is not operated by the same people that run regular subways and trains. This means that one needs different tickets and, more importantly, that the stations are not liked. At KL Sentral, the monorail station is separated from the train station and the hotels by about 500 meters of parking lots and market stalls. Not really an obstacle if the necessary determination would have been there upon building the thing! Furthermore, there are no ticket machines for the monorail, meaning that everybody has to queue in front of two counters to get tickets. Not the most efficient way to do things, but a good way to generate jobs I assume? On the upside, once you are on board a monorail or subway, you are in a comfortable, efficient and most importantly air-conditioned means of transport that swiftly and cheaply takes you places. In the downtown area, where most of the sights and shopping malls are, stations are never far away. I had localized the stop closest to the Menara KL ahead of time, but was still stupid enough to take a wrong turn on the X-ing once at Raja Chulan station. After walking around the little hill the tower stands on for ten minutes without finding the access road, I became aware of my mistake, turned around and started cursing myself. Soon enough though, I realized that this waste of energy had made me sweat even more!

After a while, the Four Sesasons hotel magically appeared before my eyes, and despite counting on it to be but a Fata Morgana, I headed towards it. Its chilled lobby felt very real and very refreshing! Not wanting to risk any more such fiascos, I then took a cab from the hotel to the TV tower. That's the way to go!
The view from the tower was nice, but due to the high humidity, visibility was a bit limited. It was still possible though to see the Petronas Towers nearby (mugshot with twin towers taken, of course!

), Merdeka square, the National Mosque and even the Batu caves in the distance. The huge malls of Bukit Bintang were not to be overlooked either. While on the observation deck, I overheard a German couple talking, and once I got back down to the taxi stand (no more intentions of walking, thanks), they where there too, asking for a cab to KLCC, which happened to be my next destination. So I asked them (in English) if they'd mind me sharing the ride, and they let me get into the Proton car as well. (Proton is the Malaysian car with a domestic market share any German, Japanese or US carmaker can only dream of.) Although their accent had given them away as Teutonics right away, I found it a bit delicate to just start talking to them in German, so I politely asked where they were from before switching languages. We chatted a bit about the city before parting at KLCC, the mega mall underneath the Petronas Towers. I browsed through several shops there without buying anything as I wanted to check prices first. And my Singaporean friends were indeed right: KL offers just as good a selection at much lower prices! Which is why the next day was mainly spent on adding new items to my wardrobe. As a side effect, I also discovered the many malls at Bukit Bintang. This neighborhood can easily be reached from KL Sentral by monorail, while the Putra subway line links the KLCC to the train station. The Putra also has the significant advantage of arriving right at KL Sentral, thus making long walks in the heat unnecessary.
I had originally planned to go see the Lake Gardens right across the street (well, eight-lane freeway really) from the Hilton, but due to the weather quickly gave up that idea. Instead, I hung by the pool until dusk set in and then decided to go out again. I found my way to Merdeka square in the heart of town. The square is surrounded by beautiful colonial style buildings and now hosts a giant flagpole. This is to celebrate Malaysian independence, which was proclaimed there in 1957. While the British still ruled, the lawn in front of the "Royal Selangor Club" was used to play cricket.

Upon my visit, there was next to nothing going on, apart from a few Malaysian couples tucking away behind the hedges to spend some time together… I must admit that the setting with the beautifully lit old buildings and the giant skyline in the background does make for a romantic setting. As I had no interest in any romantic experience (and thankfully, and unlike in BKK, was never offered any!), I made my way from Merdeka square over to the Central Market, a nice art deco building that used to be a wetmarket and has been renovated to host several stalls selling wooden carvings, linen, paintings and so on. There was not much going on anymore by the time I got there, so I just did a quick tour and bought some small wooden gifts for a few friends. I had the impression that the lady selling the stuff (impressively fluent in English as most Malaysians I have talked to) was surprised to see me haggle – maybe tourists don't usually do this here? She seemed to enjoy it though, and in the end we both felt like having made a good deal.
I figured that it couldn't hurt to walk by the Petaling street open market before returning to the hotel, and it turned out to be just the right time, as the apparently only starts buzzing after dark when the locals have the time to go there. Unlike other fake goods markets that I have seen in Thailand, and to some extent HKG, the clientele here was mostly Malays with the odd tourist here and there. There was the usual selection of fake garment, luggage, and DVDs, but the selection was quite small and mainstream. I later found a much better place at Imbi Plaza that had the not so popular flicks I was looking for. One thing I noticed on the market was that there was far less "sexually explicit" content being offered than elsewhere. Yes, there was the odd "Mister, mister, see naked lady!" being shouted at me, but it was never as obnoxious as in, say, Bangkok. Still, the only thing I bought was a refreshing coconut from a street vendor. Other than that, I was busy with taking in the hustle and bustle while at the same time watching my belongings. Crowded as it was, this was certainly pickpocket's paradise, and it is not exactly that I blend in with the locals…

When time had come to leave Malaysia, I had a hard time to squeeze all my purchases into my suitcase, and was glad that I only had one more stop on my itinerary before heading home. Definitely no more room for additional purchases. Even the way it was, the lady at the downtown check-in desk for my Malaysian flight down to Singapore added a bright "heavy" tag to my bag, before checking it through to BKK on the LX connecting flight. Glad that this worked. I was given a lounge invitation for the MH Golden Lounge along with my boarding pass, and then made my way to the KLIA Express train. The ride was quick and comfortable again, although the constant distraction in the form of video ads played at high volume somewhat annoyed me. Oh well. One of my last random thoughts on Malaysia was that this apparently was a country filled with Trekkies. Not only did the Hilton use the Star Trek trademark font on all its communication, the monorail also used the "communicator" sound effect to announce stations. Very funny!
---