Apparently due to security reasons, I had to take all my belongings with me when I left the plane, and the flight attendants teased me by wishing me "a pleasant stay and we hope to welcome you on board again soon". I replied by saying that after such a great flight, chances would indeed be good for another encounter in the very near future.

At the end of the jetway, a ground agent waited for me and verified my boarding pass to determine that I was indeed the sole transit passenger she was advised of. She gave me a transit card, opened a secured glass door and let me slip through, directly back into the departure gate, from where I could backtrack into the duty free area. Walking through the corridors, Chiang Kai-Shek airport struck me as being very bland and a tad run-down, the modern and bright duty free shops looked a bit like greenhouses in the desert, so to speak. I looked at the usual spread of fragrances, cosmetics, spirits and tobacco on offer, and then suddenly noticed that I had no idea of what currency is used in Taiwan, not to mention its exchange rate to the Swiss franc! This rescued me from having to contemplate buying something, and I strolled towards the lounge area. On the way, I stumbled upon a large sign hanging over a deserted counter. It said "Bonded baggage claim". Not having seen such a sign anywhere before and not being a native English speaker, it took me a while to grasp the meaning of this sign. But then I finally noticed the large ad right next to it, and everything became clear. HE must have been here!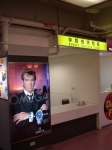 I made my way to the large Cathay lounge, which is modeled after the Pier in HKG and offers a Business class section including a noodle bar as well as a separate First class section, where I settled into a large armchair and had a ginger ale. Still being full from the meal on the flight from Tokyo, and knowing that there would be more on the onward sector to Hong Kong, I did not even bother with checking out the food selection, and only had a banana. In fact, I did not even finish that one. Maybe it was just to rich in vitamins?

The lounge also offered a free WLAN, but my notebook run out of steam shortly after I booted it up and since I had my power adapter in the checked luggage, I could not plug it in. So I just used one of the PCs provided in the lounge to browse through Flyertalk and make a quick post there. Much to my surprise, it appeared under the handle of nologic. A closer investigation revealed that he had used this station some days earlier and not logged out before leaving. This meant that the browser was still logged in when I got on the site, and I just posted without realizing that technically, I'd have to sign in first. So remember folks, always log out before you leave if you surf on FT from a public PC! Throughout my visit, I was the only guest in the First class section of the lounge, and by the time the boarding announcement was made and I returned to the gate, night had fallen and I could see the brightly lit CX tailfin through the large windows in the waiting area. The flight was reported to leave on time, having made up for the remaining delay ex Tokyo with a shorter ground time.
---